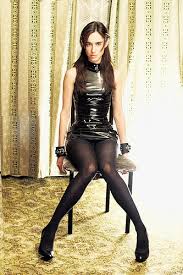 Yeah, I know – the BDSM scene sounds pretty weird, right? All those people in leather chaps and rubber vests whipping each other or whatever it is they do? Not everyone's cup of tea.
It's possible that if someone mentions fetish you immediately think of that scene in Pulp Fiction with the gimp, grimace queasily and vow never to enquire any further.
On the other hand, if you're one of those adventurous types who's dipped their toe into scene already then you will know this great, open secret—it is absolutely choc full of gorgeous girls looking to enact their wildest fantasies.
Perhaps inspired by Fifty Shades of Grey, but more likely simply because girls are often more sexual than guys and have wilder dreams and desires, BDSM clubs across the world are filled with women with varying degrees of kinkiness, from wanting to be tied up and flogged, to simply enjoying parading around in lingerie and being spanked from time to time.
I first got into going to the London club Torture Garden over a decade or so. Funnily enough, it was the PUA community that introduced me to it. They are several well-known players on the circuit who frequent these kinds of events and have a lot of fun there. Certainly, my experiences at TG lead me to the conclusion that there is no hotter crowd in London. Models, actresses, strippers, dancers and so on: all of them congregate here. So it's a fabulous playground for any pickup artist.
The other great thing about BDSM clubs is that sex is allowed—indeed encouraged—in the venue at a great many parties, so a significant part of the seducer's job is done for him already as he doesn't need to worry about the logistics involved with taking the girl home. In addition, public, or semi-public sex can be thrilling, if you are so-inclined.
Of course, you might have sex with a girl in a regular club venue, but it is not an integral part of the set-up as it is at many BDSM events.
Another interesting aspect of the BDSM / sex party scene is how clearly it displays the mechanics of the sexual marketplace. If you are a student of the red pill and you are aware of evolutionary biology and concepts coming out of it like hypergamy then going to Torture Garden is like watching a live, real life performance illustrating these concepts. From cuckolding to infidelity, to alphas, betas and omegas, the whole bestial dance of human sexuality is played out here for all to see.
It always puzzled me that game writers have not covered this scene in much detail before, since it is great for meeting highly-sexed women and there is much to be learned about female and male psychology there. That's why I started writing about it on this website last year in articles like this and this.
At first I felt like I was taking a bit of a risk. Would anyone be interested in this stuff, or would they be put off, thinking it weird? I needn't have worried. These posts turned out to be some of the most popular I have published. Clearly there is an appetite out there for information on the hidden, seedy but fascinating world.
And that is the reason why I have now embarked on a three-part series of books called FIFTY SHADES OF GAME (hur hur). The first volume will be released on February 14th – Valentine's Day appropriately enough, and it's available for pre-order on Amazon right now.
I've put it up at the ridiculously low price of 0.99 cents plus tax until the weekend. After that the price will go up. But I want to give readers of this site a chance to snap it up cheaply—and hopefully leave me a review on Amazon too.
The book is stuffed full of some of my craziest sex stories from Torture Garden, Kit Kat Club in Berlin and others. It also presents a 7 point plan for how to seduce kinky girls. I was a labour of love for me, and I know you're going to love it too.
Keen to know what you think so please do leave me a comment below and drop me a review on Amazon when you've read the book – it really does help me out as an indie author – cheers, Troy.
Whether you're a newbie with interested in BDSM, an experienced player who's looking for inspiration or just a guy who loves the thought of cute girls in PVC, leather and lingerie then Fifty Shades of Game Vol 1. will open your eyes to even greater sexual opportunities in a scene that fascinates many but is closed to all but a chosen few. Let Troy be your guide as you penetrate this hot, sexy, exciting world.
To pick up your copy of Fifty Shades of Game Vol 1 at the ridiculously low price click here to pre-order now.