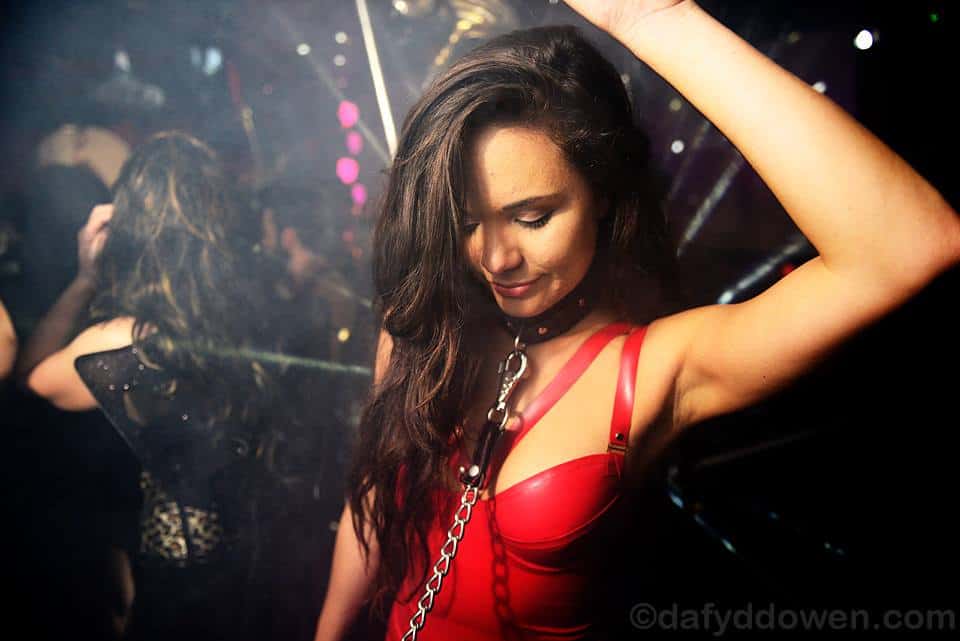 Below is a short excerpt from a new book I am writing which takes a walk on the wilder side of game and pick-up. It how best to meet girls at a BDSM sex party, in swingers clubs and in strip bars.
The book will document my crazy experiences in these places, the kinds of girls you will meet, do's and don'ts, and how best to run game there.
The extract is a description of a typical scene at the infamous London BDSM club Torture Garden.
******
It's dark and the music pounds harder than a whip on the ass of some poor unfortunate victim. Around me are the night people, those people who only come out after dark. There they are in their latex and their leather and their burlesque finery.
The lasars flash and, in photographic bursts of light, I am treated to close-ups of the faces of my fellow revellers. All around me are beautiful girls wearing lingerie in red, black and gold.
There, a girl in angel's wings with the face of a Pierrot, a tear painted on her doleful cheek. Next to her, a hugely-muscled man in a leather thong with a harness around his torso, his stern face red and puffed, out of breath.
Next, a group of petite Japanese girls, each prettier than the last, flutter by. The music is building up into a storm now. This is techno at its hardest, thundering in our ears.
And there's the smell, the sweet smell of aftershaves and perfumes which intermingles with the softer aroma of the leather, the latex, the lace.
Looking around, it's as if I have fallen out of the real world and landed up in some weird, dystopian movie that is all mixed up and uncertain of its genre. Is it sci fi? Is it a sex comedy? Is it a historical romance? Could be be war movie? There are guys dressed up as officers here, after all.
Or is it some crazy Mad Max-type film where the real world has been overturned and in its place all that's left is this strange, inexplicable sex planet where people wear the craziest things and do whatever the fuck they want?
Before me is a golden cage. I towards it. The lighting is dim but I want to get a better look at what's going on. Inside, I see a beautiful petite girl, one I saw earlier. She's Brazilian, I think. Certainly her face has that uniquely Brazilian look that many of the cutest girls I've met around London share.
Her body too—Jesus Christ that body! It's petite and yet gloriously proportioned, its wonderful litheness combined with a hip-to-waist ratio that would shame a Victoria's Secret model. Her long dark hair showers down her back, glossy and springy. Her back is slender, but her perfect little butt peeps out of her tiny ballerina's skirt like an insouciant malcontent.
She has her back pushed up against the side of the cage. In front of her, a tall, jacked, dark haired guy has his tongue in her mouth. He lunges at her.
You can't mistake the violence of true passion.
Down below them, a blonde girl has the brunette's knickers hitched out of the way with her thumb, her tongue working the girl's slit and clit, up and down. That tongue is skilled at its work. It's getting everywhere—the brunette's writhing crotch tells you everything you need to know.
I am impressed. This is not the sort this you normally see in London. But then I am always impressed when I come to this place, for it is Torture Garden, the UK Europe and probably the world's biggest, boldest and baddest BDSM sex party.
Fed up with loneliness and an empty dating life? Need clear, actionable advice that actually works and doesn't promise the moon like other useless PUA bull you've read? Then click the link to order your copy of my game textbook The 7 Laws of Seduction. 
Follow me on YouTube for daily updates via Troy Daily.