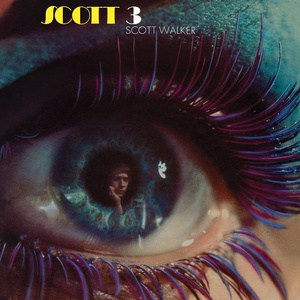 I've been listening to Scott Walker's solo albums from the late sixties on Spotify this week (Scott – Scott 4) They are incredible.
For those who don't know, Scott Walker is an American singer and musician. He was originally part of the group The Walker Brothers, whose hits included The Sun Ain't Gonna Shine Any More. While the band were pop, when Scott went solo he embraced a somewhat stranger, European-influenced strain of music that you might call uneasy listening.
Yes, the strings were lush, the orchestrations the kind of thing you'd hear on an old black and white movie on a Sunday afternoon. But in covering the Belgian singer Jacques Brel and writing dark poetic songs about broken love affairs, Scott sailed into more esoteric waters than his former band had ever dared to.
Here's Scott's version of the Jacques Brel classic If You Go Away (a track that's been covered by a great many artists including Dusty Springfield and Marc Almond):
Now, what do you make of that? The most blue-pill, 'beta' song ever? Well, just look at these lyrics:
If you go away
As I know you must
There'll be nothing left
In this world to trust
Just an empty room
Full of empty space
Like the empty look
I see on your face
And I'd have been the shadow
Of your shadow
If you might have kept me
By your side

But if you stay
I'll make you a night
Like no night has been
Or will be again
I'll sail on your smile
I'll glide on your touch
I'll talk to your eyes
That I love so much
Hard, isn't it, to imagine anything more pathetic, anything less in accordance with manosphere dictates than that. Here is a 'man' (I employ the inverted commas deliberately to placate my stone-cold alpha readers) deliberately prostrating himself before the woman who is leaving him. It is a case of oneitus turned up to eleven: 'And I'd have been the shadow of your shadow, if you might have kept me by your side'.
I mean for fuck's sake. You don't have to be a hell's angel to recognise how pathetic that is.
But does that mean a player shouldn't listen to Scott Walker? No, not a bit of it.
Before I explain why, though, I would say this: if you are very new to game then it makes sense to stop listening to overly-emotional music, at least for a while. I should also say that this is certainly not the only kind of music I play either. I'm a huge hip hop fan and I love house and techno (as well as many other genres). And when I'm blasting trap I get quite enough of my don't-give-a-fuck alpha tunes.
But there is a place for everything. Scott Walker is one of the greatest singers to have come out of the sixties, and Jacques Brel is a genius (who, by the way, has written some very red-pill songs. Check out Scott's version of his The Girls And The Dogs or Funeral Tango).
Just because I've 'taken the red pill', I refuse to shut myself off from all cultural artifacts that contradict that.
If You Go Away is fantastic song because it so accurately captures that bereft, deathly feeling that 'beta' guys get when the girl they think they're in love with leaves. I'm sure a lot of us can identify—I know I certainly can. So when I listen to the track I think 'thank god I've moved on from that way of seeing the world'.
I'm not advising that you crack out your Adele albums and indulge your worst sentimental excesses. At the same time, for me anyway, it's important that I don't shut myself off from art that reflects how a great many other people out there feel, even if it reflects a state of being that I personally am trying to avoid. For after all, what is the purpose of art if not to help us understand other people?
Plus, there but for the grace of god go I . . . 
To order your copy of my new game book HOW TO BE AN ASSH*LE (THAT BEAUTIFUL WOMEN LOVE) click here. 
For exclusive additional free content every week join my subscribers list here. 
For daily updates follow me on Twitter  
Read More: How To Be An Assh*le That Beautiful Women Love