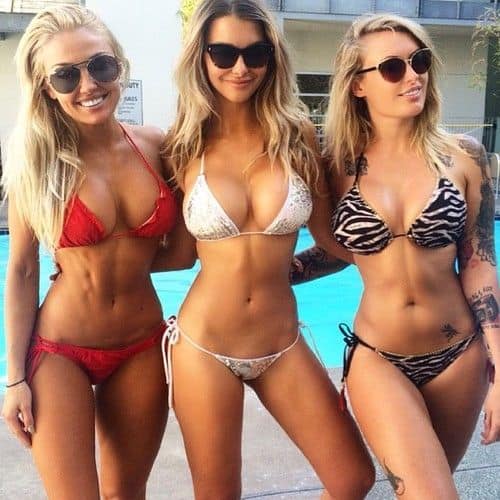 I've been in Ibiza for around five hours and already I've seen some unbelievable bodies. Seriously—I'm talking about the kind of thing that the average guy has to pay a hefty monthly subscription to access. And this even though I fell asleep on Bora Bora beach for at least an hour of that time.
Tits, legs, ass, thigh gap . . . oh man, thigh gap like thighs had never been known to touch in the history of mankind. I'm talking more like lush, magical thigh oasis.
The magic of European summer. The magic of tanned skin—skin that is golden, supple and alive. This is the secret of Europe. We only live for the summer. Everything else is polite waiting, a throat clearing before the main event on everyone's minds. The long, hot summer.
From the raves in Berlin car parks to the girls in bikini bottoms dancing on the beaches of Eivissa, this is what makes this side of the world so utterly compelling. May to October. During those months everyone in Europe is drunk or high. If not on drugs or alcohol then certainly on travel, music and lust. It is impossible to escape the hedonistic magnetism—and we have a lot to escape, remember.
Ibiza remains the capital of these revels. A citadel of celebration. This is an island powered by music, sex, sunshine and ecstasy (of all kinds). From the drag queens who stalk the ancient cobbled streets of D'alt Villa to the Italian teenagers who fan themselves in the techno cauldrons of DC10 and Cocoon and swoon to thudding drums and hissing snares, everyone is here to find release.
A girl I used to know once said to me that everyone in Ibiza is running away from something. Now, granted this was back in the 90s, so the island didn't have quite the mainstream pull that it does today. But she had a point. Ibiza is all about escapism. People come here to get away from themselves. They seek stupification in the heat, in the music, in the drugs, in the sex, so they don't have to inhabit that little space in their heads that constitutes themselves, just for a moment.
Well, that's why I come here anyway. I guess I can't speak for anyone else. I can't speak for the string-bikini wearing hordes, all those girls that travel here from Poland, Russia, Belarus, England, the US, Switzerland, blah, blah, blah. Planeload after planeload of them. How do I know why they come here?
Maybe its just to get a tan.
I don't know why I come here anymore. I don't know why I'm here now. I flew over from Berlin this morning and now I'm sitting in a not-particularly-comfortable apartment just off the main strip in Playa d'en Bossa. It's a tacky resort, always has been, but it's near the city and some of the great clubs are nearby. Space (now Hi Ibiza), Ushuaia, Bora Bora, Sankeys. Plus it's a short cab ride to the mighty DC10. I'm sitting in the apartment and I'm writing. Outside I can hear house music, that urgent pounding.  Probably everyone else on the goddamn island is drunk on tequila. I don't even drink or do drugs any more.
I do like techno music, though. And I like the bikini babes. And I like getting out of my head—in ways other than chemically. I like environments that are artificial (like clubs, bars, casinos, amusement parks even some malls). Those that have been created solely for adult pleasure.
It is no coincidence that these are the locations where game often takes place.
(By the way, Vegas is more artificial than Ibiza by a long shot. It's because of the environment. Ibiza is a genuinely beautiful island off the coast of Spain. Vegas is a town built of concrete, steel and neon in the middle of a damn desert. But Ibiza has been a pleasure-seeker's destination for centuries, so they've got the artificial thing pretty licked over here too, what with all the world-class clubs.)
I like these environments because when I am flooded by neon lights and sound I don't have to think too hard about me. I don't have to think too hard about my existential crises. I don't have to be that brainy kid I used to be. I can just be. I can get closer to my inner caveman.
I hear music: I like music. I see pretty girls: I like pretty girls. If I want to approach, I approach.
My mind switches off.
This is what alcoholics look for in drink. It's what addicts look for in drugs. It's what shopaholics look for in clothes stores. It's probably, dare I say it, what players look for when they're out chasing pussy. We're all searching for oblivion of a kind. It just depends what particular flavour you prefer—and what your constitution will tolerate.
All of that said, Ibiza is surprisingly terrible for game. Cock-blocks, girls who've paid 70 euros to get into a club who don't want to leave, everyone too lethargic to make arrangements in the daytime heat, intense competition, etc. etc. etc.
I've been coming here on and off for fifteen years. I've come with friends, naturals, guys into game—no-one seems to do well. OK, you could go to the West End of San Antonio and pull a 5 from Sunderland, but that's not really my style. Meanwhile all the 9s and 10s are in Pacha in the VIP drinking shots with Afrojack.
I'd be better off in Warsaw, I really would
But I'm here for a few days. I've got some leads to follow up. I'll keep you updated.
To order your copy of my new game book HOW TO GET HOT GIRLS INTO BED click here.  
For daily updates follow me on Twitter  and Instagram
Read More: How To Get Hot Girls Into Bed